Note: The team at Wharf Distillery sent me a bottle to try, as always I'll let you know what I really think.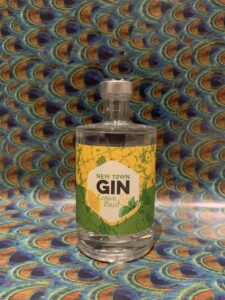 Wharf Distillery are based in Towchester, a market town in South Northamptonshire, and are (currently) the only grain to glass distillery in the county. They opened in 2014 by founding team Alice, who formerly worked in a brewery, and Laurence, who made cider as a hobby until his Hard Cider won Champion Cider of Britain in 2011. This led them to experimenting with ciders, meads and apple brandy before turning to distilling. In the last six years they've created their own grain base spirit, which is used in their whisky, single malts, gins and vodkas, and locally source fruit for their brandies, liqueurs and aperitifs. Their range is even more extensive than it sounds, with nine gins alongside their other products. Today we are trying one of their New Town gins, a range of contemporary gins that pays homage to their base in the New Town of Milton Keynes. For this range they take their London Dry gin as a base before adding in additional botanicals. There are currently three gins in the range: orange & pomegranate, mango & cucumber, and lemon and basil. They say the lemon & basil is "perfect for those hot summer evenings", so let's see how it holds up in mid-December!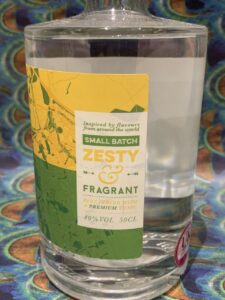 Opening my bottle (super simple thanks to a screw top cap) and I'm pleasantly surprised that it smells like juniper. A sweet lemon scent comes through, but rooted with that juniper base. A splash of water amps up the lemon, not tart or acidic though, further into the sherbet end of the scale. It's very smooth to drink, with the citrus leading the flavour. I'm not getting much through from the basil at this point, perhaps a hint of herbal notes at the back of the tongue but the dominate flavour comes from the lemon.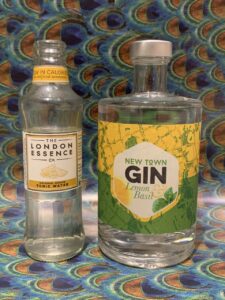 They recommend serving this with Merchant's Heart tonic, which I don't have, but have some open London Essence tonic so going with that. The sweetness is toned down by the bitter tonic but the lemon still brings plenty of flavour. They also say this pairs well with Merchant's Heart Pink Peppercorn tonic which somehow I do have in the cupboard (seriously, need to sort this cupboard out). This is an interesting combination, you still get the sugared lemons coming through, but the peppered tonic brings something new to the party and adds an extra level of flavour.
You can get a 50cl bottle of the 40% ABV Lemon and Basil gin from the Wharf Distillery website here for £27.50 (at time of writing). Whilst I like lemon, I personally find this a touch too cloying, but think if you treated it more like you would a limoncello then you would have found a good (higher ABV) substitute – whack some in some prosecco this Christmas. I also think served as a longer drink (I drank mine 50/50 with tonic) it would be lovely in a garden in the summer. You can find Wharf Distillery on Facebook, Twitter and Instagram.
Have you tried any of the Wharf Distillery range? Let me know your thoughts on Twitter and Instagram.