Note: The blog includes some affiliate links which are recognised by [Ad]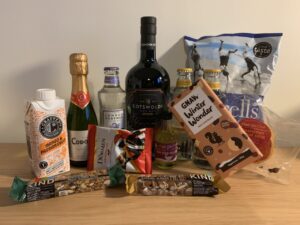 It's December which means it is Craft Gin Club delivery time! Usually at this time of the year I am frantically writing a blog a day for Ginvent, but for many reasons they weren't able to make an advent calendar this year which means I've actually get to try this box vaguely near the start of the month. This box, like the last few December editions, includes a Christmas themed gin. Cotswolds gin is a very nice gin (review here) and this version includes their signature lavender and grapefruit, alongside clementine, cardamom, black pepper and bay leaf. They used ten times the amount of botanicals to alcohol which imparts a lot of flavour, along with so many essential oils that the gin louches when mixed with water or tonic.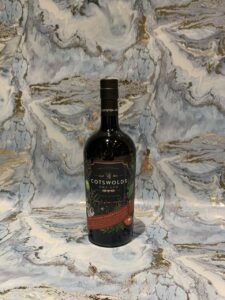 Whilst most distillers will chill filter this out to produce a clear liquid, the Cotswolds distillery team leave it as is to ensure they don't lose a drop of flavour. Their recommended serve is with London Essence tonic water, and the signature cocktail of the moth is a Gin Star Martini (details below). Before we taste the gin, my last blog about CGC focussed on the 'value' of the box, and you can certainly see this here. Alongside the 70cl bottle of gin, we received: two bottles of London Essence Indian tonic, one bottle of Grapefruit and Rosemary London Essence tonic, a carton of Crafted Mango and Passionfruit juice, a bottle of cocktail syrup, a small bottle of Codorniu cava, two Kind nut bars, a bag of mixed fruit and nuts, a bar of Gnaw chocolate; and, most excitingly, a giant bag of Tyrrell's crisps. But moving on from the snacks, how does the gin itself taste?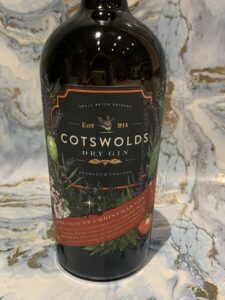 Opening my bottle (which is very easy as there is no wax seal) and you are hit with the fresh clementine – most people distil just the peel, but this gin uses the whole fruit which gives it a rich, juicy scent. You can definitely pick up hints of the black peppercorn and cardamom which balances the sweet fruit. In the glass, it reminds me of that R.E. lesson you did as children around Christmas where you make Christingles by shoving cloves into oranges. A splash of water suddenly allows the perfumed lavender to peek through plus a hint of juniper. The previous December gin boxes haven't gone down brilliantly in this house as I'm not a fan of Christmas flavours, but this has a strong juniper base which carries the other flavours, rather than being drowned out by them. And it doesn't taste of raisins which is always a win. You can pick up the orange – again, not usually a good sign here – but it's not too sweet, it is still a dry gin at heart with subtle spice and citrus.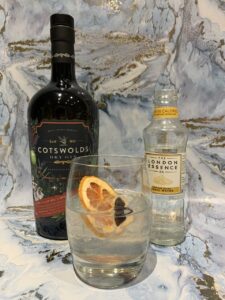 I made the G&T using the recommended London Essence tonic (although I've gone 50/50 because I don't care how often they say 50ml gin to 200ml tonic, if you need that much tonic then you haven't made a good gin) and added the dried grapefruit and clove as a garnish. Mixed like this is becomes a citrus led gin, with still a hint of woody pine underneath. The dried grapefruit is really pungent and adds a nice tang to the drink and the spiced/peppered notes balance the fruit. It's quite heavily perfumed, and that perfume sticks around for a long finish that luckily doesn't become too soapy (a sad side effect of lavender). It manages to taste festive, without being overkill. I think it would work marvellously in a negroni.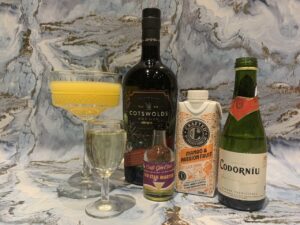 I batched up the Gin Star Martini using the recipe in the magazine (50ml gin, 25ml cocktail syrup and 75ml juice shaken with ice and served with a shot of fizz) and I have high hopes as a Pornstar Martini is a guilty pleasure of mine. This is very tasty, however as with most of their cocktail recipes the juice is overpowering the gin and I think in the future I'd cut down the juice to 50ml. The mango and passionfruit juice isn't too sweet either which helps, but ironically I still don't love cava (too dry) so would swap this out for prosecco next time. Adding the cava into the cocktail gives a better balance between the sweet/dryness.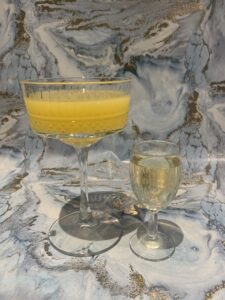 Seemingly this gin is a Craft Gin Club exclusive and it's not currently available in their member's shop, but their original Dry Gin is available via Spirits Kiosk for £31.95 [Ad] (at time of writing). You can find Cotswolds Distillery on Facebook, Twitter and Instagram.
You can find Craft Gin Club on Facebook, Twitter and Instagram. If you fancy trying a Craft Gin Club subscription, you can use this link [Ad] to get £16 off your first box.
Have you received this month's box? Let me know your thoughts on Twitter and Instagram.