Note: Wayne from the Redsmith Distillery kindly sent me a bottle to try but I will let you know what I really think.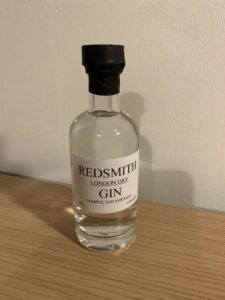 Redsmith Distillery came about when founder Wayne decided to branch out from commercial heating and pipe fitting in 2013 into distilling. With an engineering degree, Wayne decided he would build his still from hand whilst studying at the Institute of Brewing and Distilling. In 2015, he finished building his still and gave it the name Jenny – whilst I'd love to say I inspired this, it's actually named after ancestor who was married to a Cornish copper miner. The first batch of his London Dry style gin was ready for the public in May 2016, and in October of that year won the Gin of the Year award at the Craft Distilling Expo. Wayne uses nine botanicals in his one-shot gin, using juniper, coriander, fresh oranges, bay, cardamom, rosemary, orris, angelica and cassia – they then describe the taste as "leafy salad notes" which makes me intrigued to try it, but also wary as I don't generally like my gin to taste of salad.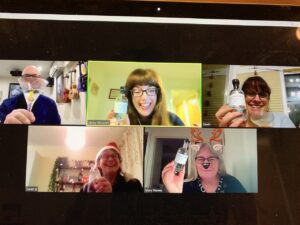 On the nose it's very junipery, and in the glass you get more herbal notes coming through. Sipping it neat you get a lot of the cassia spice on the tip of the tongue with just hints of savoury rosemary around the edges. It instantly screams martini to me, and it's quite creamy in the mouthfeel. There must be a lot of orange in it as you can see the oily texture on the surface of the gin. Adding an equal measure of tonic and it louches slightly, and makes an interesting g&t. The spice comes through first before the sweet citrus washes through and cleans the palate. At first it can be a bit intense, but after that it really grows on you. I would definitely not describe it in any way as "leafy salad notes" so not sure where that came from, but you can pick up a little savoury note.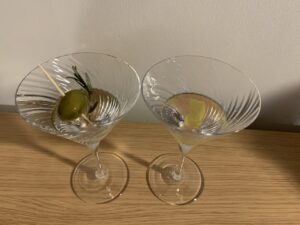 As I had some gin left in my sample bottle I decided to whack it all in a martini with a difference. I mixed 55ml of the gin with 5ml of Dolin vermouth then split it equally between two glasses. One is garnished with an olive and some rosemary to bring out the savoury side, and one is garnished with some lemon peel for the citrus. The lemon twist adds a burst of bright citrus to the martini, but still allows the punch of the spice to come through so overall you get some big, bold flavours. This martini is ever so slightly drier than I would usually make (this is what happens when you virtually drink with Ant aka Brim and Tonic) so feels a little harsh, but some of the smoothness of the vermouth comes through so I think a tiny drop more of that to bring it to my normal ratio will balance that nicely. Note: I indeed added a drop more vermouth and it is lush.
Diving into my faux-dirty martini and you get that delicious taste of olive and herbs and this comes alive. Again, the warmth of the spices comes through but you get that lovely salty umami goodness. Man, I love dirty martinis. I added a splash more vermouth and it brings it perfectly into balance for my tastes, it takes away the harshness of the gin and makes it a perfect drink to snuggle down with while dinner is in the oven. It might even be on par with an Isle of Harris martini…
You can get a 70cl bottle of the 43% ABV gin from the Redsmith Distillery website for £39.99 (at time of writing). You can find them on Twitter and Instagram.
Have you tried Redsmith Gin? Let me know your thoughts on Twitter and Instagram.