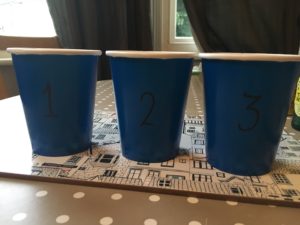 Hello! With the explosion of the gin market, people soon realised that Britvic is gross. While Schweppes is fine, it doesn't have the nuances to pick out the flavours that make gins unique and enhance it. So luckily, lots of people have really upped their game. I'm taste testing nine tonics to see which is best. Well, that's a very bold statement. Obviously tonics are catered for different flavours so really I'm going to drink a lot of gin and tonic in the name of research to see which tonic makes which flavours stand out. The gin I am using as my test gin is 6 O'Clock Gin. I chose this because it's quite a simple gin but has citrus and floral notes to it so we can see if the tonic's enhance or drown these. This gin is around the £25 mark so is reasonably priced, meaning you can afford a fancier tonic! Now, a good tonic should work with any gin, so I've deliberately picked a middle of the road gin to see how they fare.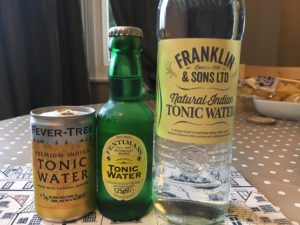 This first post is going to focus on three key players in the tonic market: Fever-Tree, Fentimans and Franklin and Sons and today I am helped by my glamorous assistant Russell. So, pour yourself a gin and let's have a little look at them before we get drinking.
Fever-Tree is the market leader in premium tonics in my mind – please correct me if I'm wrong but if you go to a pub, usually Fever-Tree is the tonic on offer now. Launching their Indian Tonic in 2005, they now have 15 drinks to their name ranging from tonic to lemonade, Madagascan cola to ginger beer and even now a soda water. Plus 'light' varieties of tonic and ginger beer. Their bottles are 200ml (I usually have two drinks from a bottle) and also sell cans of 150ml which is what we're using today. Going against my usual method: you can find Fever-Tree on Facebook, Twitter and Instagram.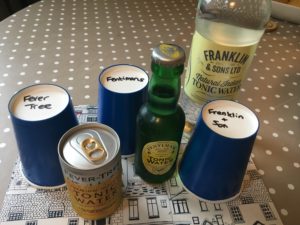 Fentimans are the iconic green bottle we are all used to seeing, and have been making botanically brewed beverages for over 100 years. As a brand they've developed over the years and have not only their soft drinks, but also pre-mixed bottles, craft beer and the House of Broughton range of syrups. Their list of products is too long to name (you can check them out here) but I highly recommend mixing gin with their sparkling Lime and Jasmine for a refreshing long drink. Today we are using their Indian Tonic (to make it fair). Fentimans are available on Facebook, Twitter and Instagram.
Franklin & Sons have been going since 1886 (take that Fentimans) and are now making award winning soft drinks and mixers. I need to be upfront and say that their Ginger Beer and Lemonade and Elderflower drinks are some of my favourite things in the world (check out the full range here). But they are not what we are testing today. Today it is again their Indian Tonic Water. Whilst seen less frequently in bars (at least in Brighton), they're definitely not to be ignored. You can find out more about them on Facebook, Twitter and Instagram.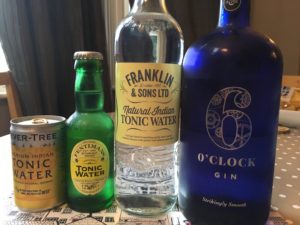 For the sake of fairness, all gins have been poured at 25ml with 50ml tonic (because I realised I might not have enough 6 O Clock gin left to do 50ml for 9 tonics…). We've also mixed them around a lots so we don't know what we're drinking. Let's get started!
Tonic #1
Jen: It's quite dry and brings out the juniper, tastes like a standard gin and tonic really.
Russ: It's quite weak tasting – it doesn't really have any aftertaste to me whatsoever and I don't know if that's a good thing or not.
Tonic #2
Jen: This tastes ever so slightly sweeter, the focus isn't on the juniper as much as the first was.
Russ: This one tastes nicer, it's a bit more interesting. This is my favourite of the three, it's more appeasing and I don't think I could drink the other two for more than a sip whereas I could drink all of this without being bored or questioning more about it.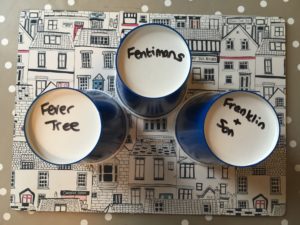 Tonic #3
Jen: This tastes almost more savoury, but slightly artificial, it's much drier than the others.
Russ: This tastes more artificial, like a syrup in its taste
So all in all, none of them really wowed or bought out anything unusual in the gin but to me the juniper was more prominent with the first. As juniper is pretty key to a gin and tonic, this is probably a good thing. My favourite is number one, because this tastes most like a usual gin and tonic – it turns out number 1 is Fever-Tree which explains that really! I thought number 3 was a Fentimans because I've always found that to be drier, and I was right. This leaves number 2 as Franklin and Sons – and Russ' favourite.
Basically, what we're saying here, is there's not much in it with these top three. Yes, all three do a range of flavours that will bring something new to the table but for the standard Indian tonic water, these three are holding their own. Certainly better than a Britvic anyway! Personally, I prefer a Fentimans with something like a Sipsmith as I like that it highlights the dryness of the gin. I feel the Franklin and Sons would be better suited to a sweeter gin to complement that – although I was once told that you should aim for opposites with your gins and tonics so perhaps my opinion is very wrong!
What's your tonic of choice? Let me know on Twitter and Instagram.