Note: I met the Twelve Keys team on their launch day at Junipalooza and they kindly gave me their final bottle to put on the blog, but as always, I'll let you know what I think.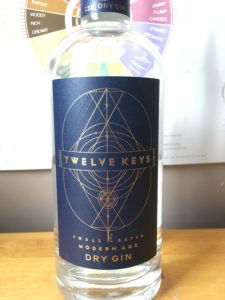 Twelve Keys gin is new. Brand new. I mean they literally launched at Junipalooza on 9 June. They also have a beautiful man in their advertising. But that's irrelevant (it's not). Inspired by Basil Valentine – a 15th century alchemist – the twelve botanicals vary from honey (from their own wildflower meadow) to fig, quince, basil and apricot. The fruits are balanced with caraway, frankincense and cinnamon to create a rounder flavour. When I tried this at Junipalooza, they garnished this with a coffee bean and a small piece of fig, and the coffee bean added a depth to the flavour – and I don't even like coffee!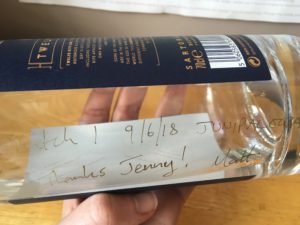 Opening my (signed) bottle, the juniper leads the way with just a hint of warmth to it. In the glass, something slightly menthol reaches up to the back of the nostrils. I'm not picking up any fruity notes to it straight, but there is a nuttiness lurking back there. Mixing it with a dash of water, the pine comes forward and a depth from the frankincense. A sip of it and it is very smooth and easy to drink – which is impressive at 46%. Sipping it allows the herbaceous notes to travel up your nose but nothing is over the top, everything is balanced and well rounded.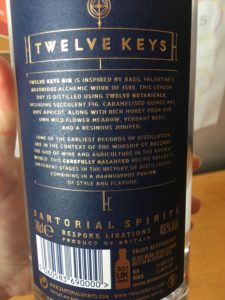 Adding some Fever Tree tonic allows the subtler notes to lengthen out. It is deep and earthy but with a touch of sticky sweetness to lift it in the back of your throat. It has a richness to it that I can't quite pin down, and I like that. With some gins, the botanicals are easily identifiable as they destroy some of the subtler flavours. Here, everything has a place. It has a great mouthfeel to it. Think and heavy, the flavour sits in your mouth for a while – it's not complex and changing because it is just a solid, good gin.
You can buy a 70cl bottle of 46% Twelve Keys gin from Gin Kiosk for £39.90 (at time of writing). Worth it? Yes. You can find Twelve Keys on Facebook, Twitter and Instagram.
Have you tried Twelve Keys gin? Let me know your thoughts on Twitter and Instagram.