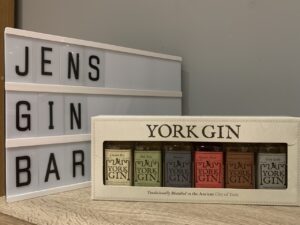 After a little break, I'm onto the final gin from my York gin tasting set. The Chocolate and Orange gin is inspired by the Christmas classic – the chocolate orange. I've tried a chocolate and orange gin before from another distillery and for me it's a tough one – the chocolate side was great but the orange was not (very much a personal thing and I fully understand why people without an aversion to orange enjoy it). So what does a chocolate orange have to do with York? Did you know the Terry's chocolate orange was invented in York? I certainly didn't, and once you know that, this makes more sense. They take dried, roasted and crushed cocoa beans and fresh oranges which are combined with the York original gin. They suggest serving this in an espresso martini, but I think chocolate and orange are the perfect match for a negroni. So, let's see how it tastes.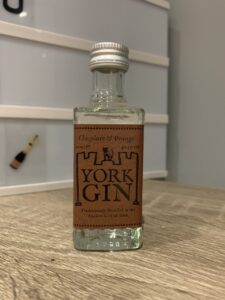 Opening my little bottle and you can instantly smell the orange, with those rich chocolate notes coming through underneath. In the glass, these work well together, the chocolate smells quite bitter rather than sweet. Adding a splash of water helps bring that tart orange to the front again, but luckily (for me, anyway) it's not too strong to taste. I'm picking up more of the dark chocolate with a citrus twist at the end.
Their recommended G&T serve is with full sugar Indian tonic (and dried orange slices, but I'm ignoring those because I don't need more orange). I've made a very small one as I want to try this as a mini negroni after this. As a 50/50 G&T, it's a bit too bitter but a splash more tonic evens it out. The flavours are definitely still there, but it's less intense. It brings something different to your usual G&T, the bitterness adds a coffee-like note to it (which is probably why they recommend this in an espresso martini) so it feels like a grown up drink.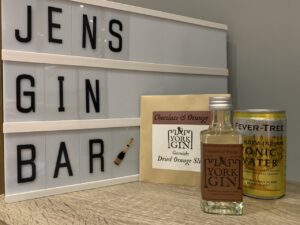 Talking of grown up drinks, I've made myself a wee negroni. I had just over 20ml of the the gin left so topped that up with 20ml Campari and 20ml Cocchi di Torino vermouth. It's a bitter little beast (not helped by the Campari, not my bitter of choice but I've run out of Victory), but rather moreish. I like to add chocolate bitters to my negroni, so this is all the flavour but with less effort.
You can get a 70cl bottle of the 42.5% ABV Chocolate and Orange gin from the York Gin website for £39 (at the time of writing). You can find York Gin on Facebook, Twitter and Instagram.