Note: This post contains affiliate links marked as [Ad], if you click on this and buy a bottle of gin then I will receive a small commission.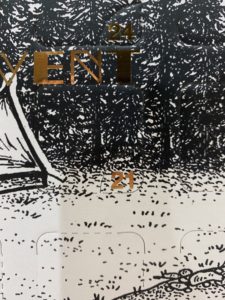 Yesterday, we tried Stranger and Sons, one of the first gins coming out of India. Today, we continue with this theme and try Hapusa gin. They had the same realisation as the team behind Stranger and Sons, that lots of gins were inspired by India, but not actually coming from India. They are the only gin (correct me if I'm wrong!) to use Indian juniper berries from the Himalayas, and their name Hapusa is the Sanskrit word for juniper. Alongside the juniper, they also use a range of rich botanicals from the area – mango, almonds, limes, turmeric, ginger and cardamom along with their wheat based spirit. It sounds like an interesting blend – the sweetness of the mango paired with the warmth of the ginger and turmeric, so how does it taste?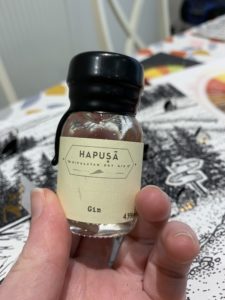 Cracking into my dram and it doesn't smell as I expected – the ginger and cardamom mix together and a hint of marzipan comes through. In a glass, the almonds are most obvious with a touch of juicy fruit in the background. We had a mango gin in last year's calendar and I wasn't a big fan so I'm hoping this isn't similar (although this isn't bright orange so fingers crossed). Neat, and you definitely get the nuttiness and creaminess through with some peppery notes. Not really picking up any mango; if anything there is a smokiness to it – slightly reminiscent of the Tarquin's gin we tried earlier this month. A splash of water tones it all down a bit, but it's not really a winner for me. For a gin named after juniper, I sort of expected to be able to taste it a bit more. I also don't like marzipan at the best of times and I really wasn't looking for it in my drink.
Mixed with tonic, and there's still something a bit off about it. I can't fully pin down what it is I don't like about this. I think it's the smokiness, or the bitterness. Or both. It isn't that it is unusual and I want to keep sipping it to find out more, it's just not something I enjoy and it makes me not want to retry it. To be honest, tt has me wishing there was more mango to make it a bit sweeter.
You can get a 70cl bottle of the 43% gin from Spirits Kiosk [Ad] for £41.95 (at time of writing), safe to say, I won't be purchasing a bottle anytime soon, and you can follow Hapusa gin on Instagram.
Have you tried Hapusa gin? Let me know your thoughts on Twitter and Instagram, and keep up with Ginvent here.