It's March and my Craft Gin Club box arrived and I'm actually opening it vaguely on time! This month's gin is from York Gin – and whilst I'm not usually keen on anything that involves lots of floral botanicals, I've never had a dud from them so fingers crossed! If you know *anything* about York gin, you'll know just how important the city is to their gin – from the historical behind their botanicals to the design of the label. This gin is no exception.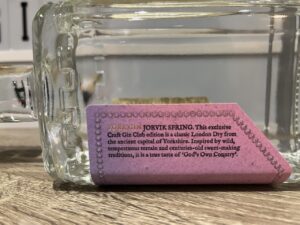 For their special edition, they were inspired by their Viking history – Jorvik is both the Viking name for York and old Norse for Spring. Outside the city, the Yorkshire Dales come alive in spring, flooding the hills with purple lavender and heather. The team worried this might be aa bit intense, so added some balance with ginger – also a key ingredient in the traditional Yorkshire parkin cake – and white rose – the symbol of the county. York was once a global trading hub, so distiller Harry added in some Szechuan pepper for a citrus twist. They say it's the essence of history in a bottle, so let's see what it tastes like.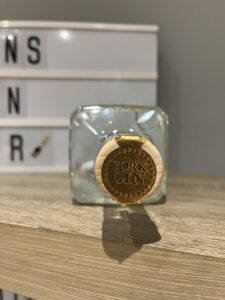 Opening my bottle and you get a sharp, peppery note straight away – it's so inviting. In the glass, the pepper mixes with the fragrant ginger, and a splash of water allows some of the more delicate aromas to drift up. To sip, it's not harsh or abrasive – for 40% ABV it's actually very easy to sip. The floral notes are definitely there, but it's not at all soapy or cloying. It is balanced really nicely with the gentle spices and tiny hint of citrus (helped by the dried orange peel) and has a very pleasant, long finish.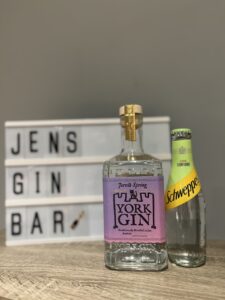 Their recommended serve uses the Schweppes Slimline Elderflower tonic (provided in the box), and I can't decide if more florals is going to help or hinder this. The flavour from the gin is so delicate, I worry it will drown it – especially at the 4:1 ratio recommended!
I'm starting with a 50/50 split and to me, this has ruined the gin. The flavour of the tonic has completely destroyed the subtle flavours of the gin. The tonic itself tastes of lovehearts, that kind of synthetic sugar and flavouring so even on its own I'm not a huge fan.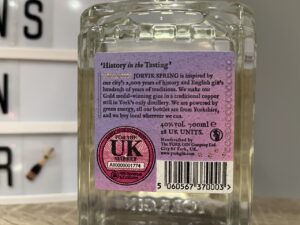 Because I like this gin, I'm giving it a second chance with some Fever Tree light tonic, in the hope that an unflavoured tonic lets it shine. Instantly this is much better. There is a slight harshness to it now from the tonic, but it no longer sticks around unpleasantly at the back of your throat. Sadly the gentler notes are slightly drowned out, but you still get that fresh mouthfeel, it's pretty vibrant and still very easy to drink. My recommendation is to get the gin, but not the flavoured tonic. I think this could make a really lovely delicate little martini – keep an eye on my Instagram to see if I ever get round to this!
The Jorvik Spring gin is currently exclusive to Craft Gin Club members for £30 for a 70cl bottle (at time of writing). You can find York gin on Facebook, Twitter and Instagram.
Have you tried any of the York gin range? Let me know your thoughts on Twitter or Instagram.