Note: This post contains affiliate links marked as [Ad], if you click on this and buy a bottle of gin then I will receive a small commission.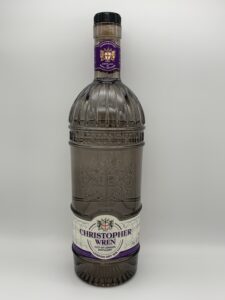 So you might have seen my previous posts about the City of London Distillery – I've already tried their Six Bells gin, Square Mile gin and Authentic London dry gin, and today I'm drinking the Christopher Wren edition. Now, you might know that the City of London Distillery was the first gin distillery within the City of London for nearly 200 years, and you might know that Christopher Wren is very famous for designing, amongst other things, St. Paul's Cathedral. But, fun fact, when I went to visit the distillery and bar (which I recommend doing after lockdown as it's lovely) there was a poster in the toilet advertising that it takes less steps to walk to St. Paul's from the distillery than it does to climb to the top of St. Paul's. Now, I haven't fact checked this, but it just shows how close the two are. This gin was created in collaboration with Tom Nichol (who, at the time, was the master distiller at Tanqueray) and this is made to be a classic London dry gin. In this expression, they use only one type of citrus (dried orange peel) alongside juniper, coriander, liquroice and angelica root. The tasting notes on their website say the candied orange flavour carries throughout, and as someone that isn't massively keen on orange, this might have been a poorly thought out purchase on my part. But, here we go.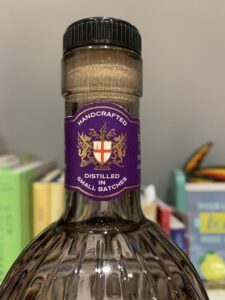 Opening my bottle and, like all of the COLD gins, it is juniper led with just a whiff of orange which becomes slightly more pronounced in the glass. Leaving it to sit for a moment or two allows the oily essence to rise up, as if you have just squeezed a fresh peel over a glass. Adding a splash of water makes the orange juicier, and on the tongue it is easy to drink – smooth at first then a burst of acidic citrus in the middle of the mouth which lingers long after your first mouthful. It definitely tastes like a classic gin, quite dry on the tongue from the juniper and on the second sip the orange settles down to a more cohesive taste, just leaving a pinch of heat at the back of the mouth. It's interesting to sip, put down, wait, and sip again as the profile changes from dry to citric to slightly peppery on different occasions.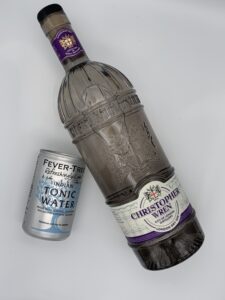 Mixing it with equal amounts of Fever Tree light and it's rather bitter. You do get some soft citrus coming through, and definitely lots of juniper, but it feels a bit off. And I can't fully work out why. Adding a dash more tonic makes it slightly easier to drink, perhaps this is just one of those gins that needs a little more tonic than others. Now it is a perfectly palatable g&t – and if you were so inclined I think a slice of orange would brighten the whole thing up.
You can get a 70cl bottle of the 45.3% ABV gin from Spirits Kiosk [Ad] for £33.95 (at time of writing). I don't think this is my favourite of their range that I have tried, but also I got this in the Drop Store deal for £15 a bottle so don't think it's been a waste of money. You can find the City of London Distillery on Facebook, Twitter and Instagram.
Have you tried any of the COLD range? Let me know your thoughts on Twitter and Instagram.